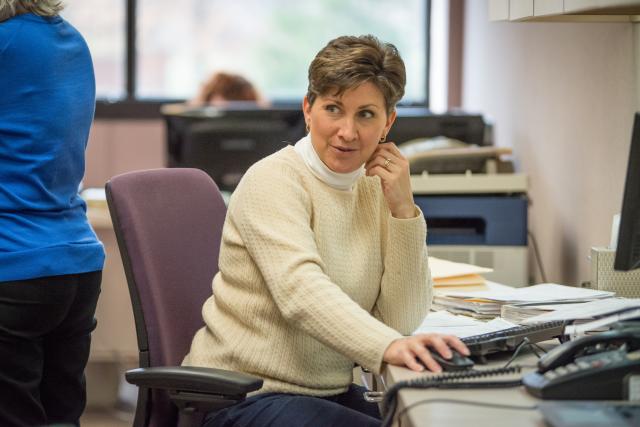 Kami Mitchell
If she ever had an hour to herself, Kami says she might grab a cold drink and the TV remote. Or she would clear through the pile of chaos that sometimes accumulates when her back is turned. Kami Mitchell grew up in nearby Kettering, Ohio. She's the youngest girl in a family of three older brothers. Which may explain why she seems so hungry for the remote.
You may notice that Kami seldom calls attention to herself as she works quietly and efficiently in Dr. Fritz's office…perhaps because Kami grew up singing second alto in church and show choirs, where she learned to blend in and harmonize. One reason we love her is because she's just so darned easy to be around.
All three of Kami's brothers attended Miami University in Oxford, OH, and because Kami grew up thinking that that's simply what college was, she too attended Miami where she majored in Interior Design. After graduation, she returned to Kettering where she sold office furniture and enjoyed her friends there. Once she met her husband, they were engaged within six months and married within a year—they then moved to Cincinnati, bought what Kami calls her well-loved "money pit" of a home, and set about attending to every inch of it.
Kami is involved with her church, and she cooks, bakes, and gardens (though she's learned to stick with the few plants the deer don't eat).
Kami has one son (who was born only hours before Dr. Fritz's birthday…a fact in which Dr. Fritz takes great delight)…he is smart, energetic, and obsessively sports-minded; from the time he first saw a ball, he knew how to use it.
It's not a stretch to say that her son is the light of Kami's world. When possible, she volunteers at his school, and she cheers him on as he competes in baseball and basketball. And when they're not at one of her son's games, she and her family root for the Miami Redhawks, the Cincinnati Reds, and the UC Bearcats.
She doesn't have any pets of her own, but she frequently takes care of her friends' and families' dogs and loves them as her own.
At home, she plays rather competitive games of Sorry, Monopoly, Rat-A-Tat-Cat, and Uno. Kami may be quiet, but she doesn't like to lose.