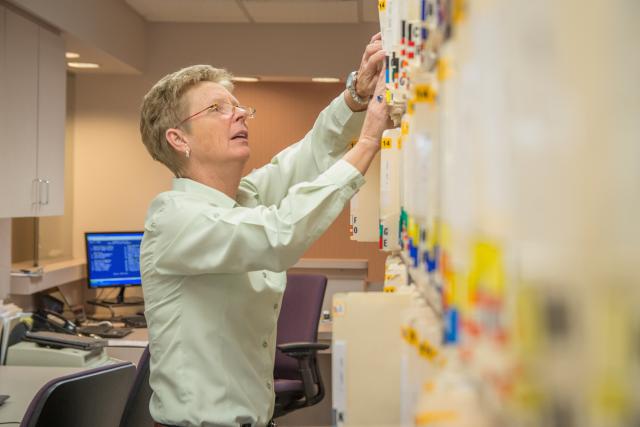 Sharon Graham
Sharon is the Softball Hall-of-Fame firecracker who greets patients at the front desk and who oversees all the front-office, patient-encounter details that make for persoan and pleasant visits to the practice.
Sharon quickly claims that it was she who introduced Dr. Fritz to golf; now, she says her most important role in the office is to bring Dr. Fritz back down to earth when it comes to recounting all those golf rounds. Before they were avid golfers, Sharon and Dr. Fritz were avid softball players. They first met on the softball field, and they've continued a wonderful (and competitive!) friendship since 1985.
Sharon was recognized as a world-class standout at second base…and we mean world class: She played in the softball major leagues for thirteen years and led her team in winning back-to-back-to-back World Championships. That's three World Championships. In a row. All in all, though, Sharon helped lead nine different softball teams to their World Championships, which is one reason she was inducted into the Greater Cincinnati Hall of Fame in 1995 and into the national USSSA Softball Hall of Fame in 1997.
In addition to playing, Sharon also officiated softball; and, true to form, her umpire skills were also recognized at the highest level when she was invited to officiate the prestigious Women's World Series. No. That's not all. For twelve years, Sharon coached fast-pitch, college-level women's softball at Cincinnati's Mt. St. Joseph college.
It should come as no surprise, then, that Sharon excels at whatever she sets out to do: She earned her B.A. in Physical Education and Health from Eastern Kentucky University, and then she went on to earn a Master's degree (+30 hours) at Union College.
In 2012, Sharon retired from a long career at Amelia High School where she taught Safety and First Aid and Physical Education. Now, in addition to focusing her energies on making sure Dr. Fritz's patients are pleased with their experiences in the office, and in addition to challenging Dr. Fritz on the golf course througout the summer, you can pretty much bet Sharon's slipping off to catch largemouth bass at her favorite fishing hole.
But be forewarned: If you're ever in the position to give Sharon a short putt on the golf course, she'll probably shake her head and resolutely say, "No thank you. I don't cheat, and I don't take charity." Then she'll sink her putt.