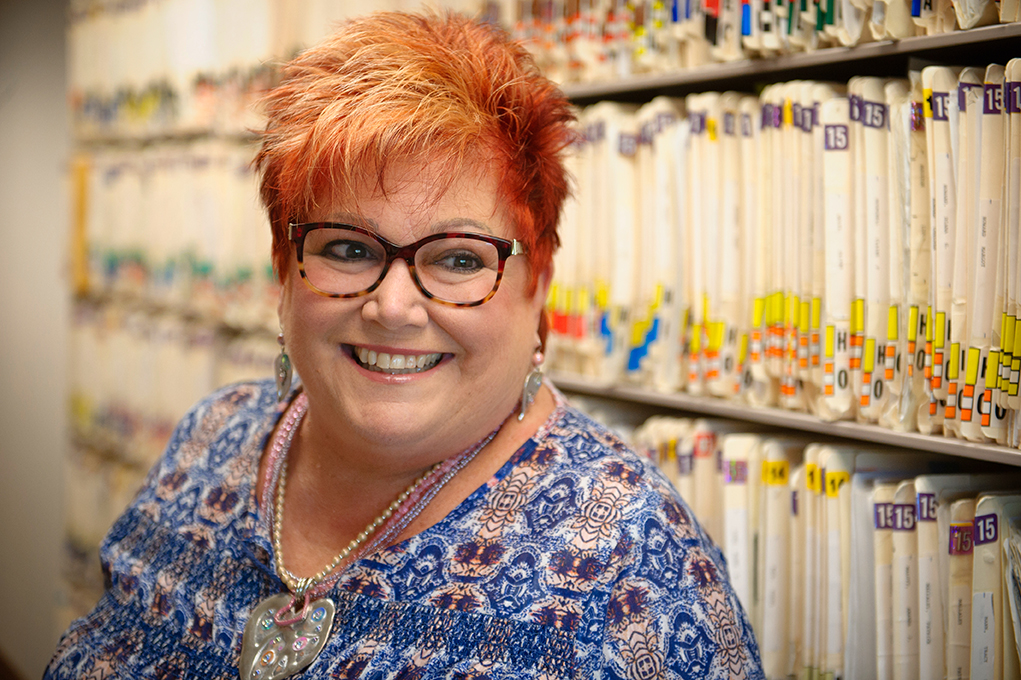 Maureen Bertsch
Her grandson calls her "Red Gamma," and once you lay eyes on Maureen Bertsch, you'll understand why. She's a spectacular eyeful. And once you learn a little bit about her, you'll learn she's a spectacular life full as well.
Maureen was born and reared in Cincinnati's Mt. Healthy suburb…not only did Maureen attend Mt. Healthy schools (where her mother taught kindergarten) but she recently retired as a K-6 reading specialist and as a first-, second-, and fourth-grade teacher…all in the Mt. Healthy school system.
Some of you may recognize Maureen from her job Bethesda North Hospital where, having worked so many years with young people, she sought interaction with "big people" by serving up delights in the hospital coffee bar.
Maureen's first college degree comes from University of Cincinnati's highly selective DAAP college where she earned a B.A. in Fashion Design…which may explain why WOW is one of the first expressions that comes to mind when meeting her.
Later, Maureen earned her Masters Degree in Education from Xavier University.
She has also worked as a buyer for Shillito's, as a supervisor at Avon Products, and she owned the much-loved used bookstore, The Book Rack, in Cincinnati's Dillonvale and Blue Ash neighborhoods.
For fun, for relaxation, and as an outlet for her ever-present creative impulses, Maureen sews…she sews everything from slip covers to wedding attire, not only altering prom or bridesmaids' dresses, but by designing and sewing her own wedding gown creations. She does not mess around, people.
When she's not working for Dr. Fritz or sewing, you might find Maureen with a book in her hand, cooking in her kitchen, playing Bridge during her weekly Bridge night, or relaxing with her husband and two Boston Terriers at their Elk Lake, KY cabin.
It's clear that Maureen has a flair for interacting with people, and we're tickled that she's chosen to work with Dr. Fritz's patients. We feel lucky to have her with us.